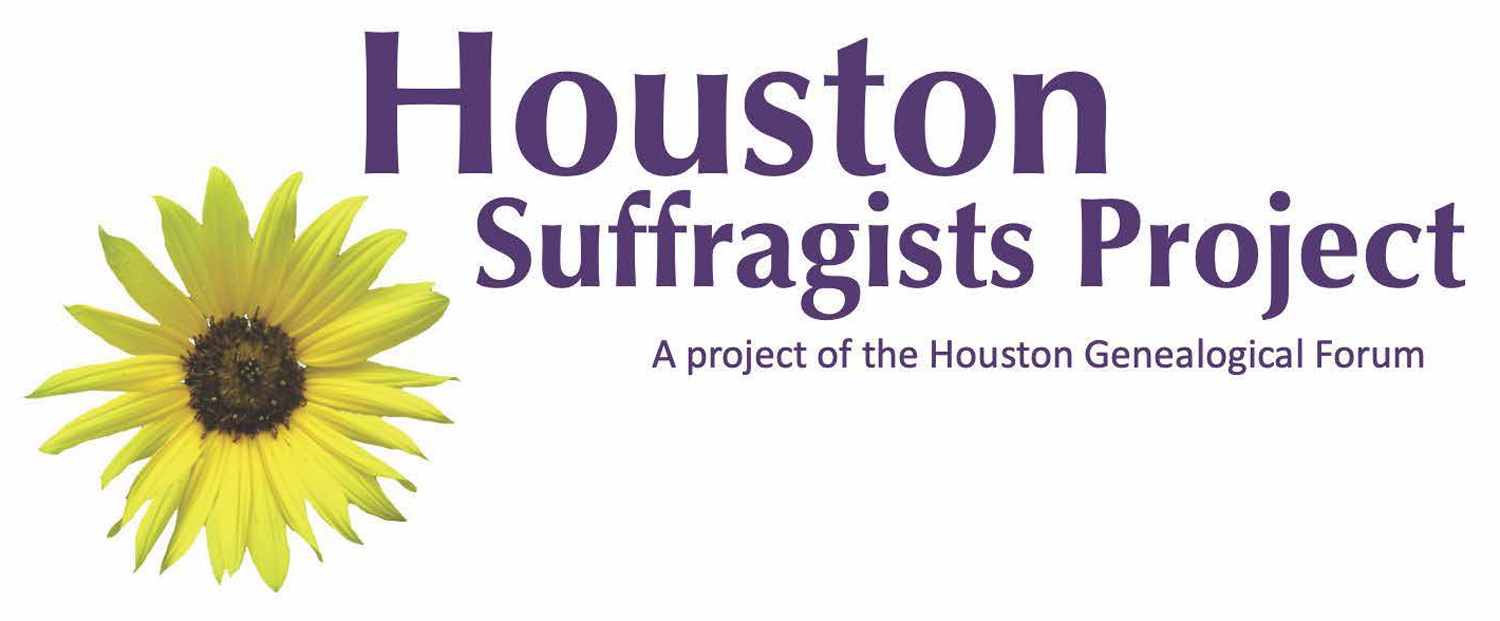 Welcome to
The Houston Suffragists Project
The Centennial of the 19th Amendment to the U. S. Constitution prompted us, a small group of genealogists, to find and preserve the historical records of Houston women voting in 1920.

We present the story in sections.

The 1920 Elections
Poll tax laws governed voter qualifications in Texas. State election laws did not include women. This section describes the conflict between the 19th amendment and state laws. Suffragists reacted to the Texas legislature's attempt to impose the poll tax on women and restrict their voting right. They filed a lawsuit that led to a tremendous turn out of women voters on November 2, 1920. The unique Harris County opportunity included record numbers of Black women voting for the first time. Read the outcome and newspaper accounts of the lawsuit and election day in the Laws and Lawsuits section.
The List
We discovered a list of Harris County poll taxpayers of 1919 and 1920. From the list of 22,563 taxpayers, we extracted 3,583 names of women. We researched them and identified about 2,900 women. Our list includes details from the 1920 Census. Is your grandmother, aunt, or great grandmother on the list? Search for your family in the List section.
The Map
The homes of these women are reported with addresses from 1920. Many will not be found on a 2020 map of Houston. The addresses have been plotted on a map that overlays 1920 streets on 2020 streets. Old street names have been researched to put these women on renamed streets. Enjoy the look at old Houston neighborhoods. Find your grandmother and her neighbors on the map.
Laws and Lawsuits
The laws governing women's suffrage changed a great deal during the period 1918 through 1920. This section includes more detailed descriptions of these laws, the lawsuits which challenged them, and the attorneys, judges, and plaintiffs who played the critical roles leading to women voting in the 1920 election.
Biographies
As genealogists, we want to learn more about the women we discovered. Some names are well known. They have been researched often, and their stories have been published. Others are unfamiliar women who were active in, or supported, the woman suffrage movement. Those stories are important, and new. Learn about some of them in the Biographies section.
Research and Records
The methods, records, and other resources used in the Project are described in this section.
Statistical Summary
Detailed data about the women who paid the 1920 poll tax was gathered by the Project including marital status, race, occupations, and home ownership. Charts presenting this information are displayed in this section.
About Us
This section tells the story of the search for the 1920 women voters and the researchers who found them.