The 1920 Poll Tax List
Discovery of Poll Tax List
The Houston Suffragists Project began with a simple plan: Identify the women eligible to vote in Harris County, Texas following the enactment of the 19th Amendment to the U. S. Constitution in August,1920.
Initially Texas State and Harris County archivists reported that the 1920 voters list did not survive. However, after broadening her search, a Harris County archivist found a poll tax list for 1919 in the holdings of the Harris County Archives which later proved to be the correct, and only, list used for the November 1920 election. It consists of names of those who paid the tax between October 1, 1919 and January 31, 1920 as well as payments made during a special payment window in late October 1920. The archivist supplied the record, a series of digital images from microfilm of tax rolls, indicating the film was probably copied in the 1950s. Rae Bryant enhanced the images, converted them to PDFs and divided them into 11 batches of 11-12 pages each. The batches were distributed among eight researchers.
It is known that Judge J. D. Harvey's rulings in October 1920 allowed some citizens to vote on November 2, 1920 without registration or poll tax receipt. As a result, there is no way of knowing who voted.
Description of Poll Tax Roll
At the top of each page is the title Supplemental Roll of Polls in Harris County, Assessed for Taxation, and Taxes Collected for the Year 1919, by A. R. Miller Tax Collector. Each page has 180 names, in 4 main columns. Although the column headings include Number of Tax Receipt, Name of Taxpayer, State Tax, and County Tax, only the name, receipt number and $1.50 State Tax are recorded. In some images the receipt number in the first column is obscured. In the header on the preprinted pages, the 2 in 192_ is crossed out and written over as 1919. There are 126 pages of names and a final summary page.
The final page is a recapitulation.

The recapitulation includes page numbers, but none are visible on the individual images. The county tax collector or a deputy calculated a total 22,563 polls collected, after 27 refunds. Refunds and exemptions are excluded from the voter list. In later years exemptions were recorded in separate books. It is likely that a 1920 exemption book was discarded.
The last batch includes the final names of the alphabet and 2 pages of A to Z names. There is no explanation for the final names. The pages appear to be an addendum.
The pages are alphabetized only by first letter, undated, and by unknown authors. It is likely that several numbered receipt books were used in the period from October 1, 1919 to January 31, 1920 and during the special period in October. Taxes were accepted at the courthouse, outlying towns in Harris county, and some Houston public schools and department stores, suggesting multiple numbered receipt books were used. The handwriting suggests at least two authors copied the names to the pages.
Extraction of Names and Identification of Women
From the total 22,563 names, about 3,583 female names were extracted. Most used the prefix Miss or Mrs. Some names without prefix were extracted but later identified as male and deleted. Two pages of images are duplicated. About 15% of listed taxpayers are women.
After the names were extracted and compiled in a spreadsheet, the demographic research began. Of the 3,583 female names about 2,900 are identified currently.
It is not possible to identify all the listed women on the January 1,1920 census. Some are found only on the 1920-1921 Houston City Directory, effective December 1, 1920. Some are found in census years 1910 and 1930, but not 1920. Some are on lists of suffrage organizations and clubs. Other sources are marriage records, death records, FindAGrave, newspapers and city directories from years surrounding 1920. It is common to find addresses that differ between the January 1, 1920 census date and the City Directory listing date of December 1, 1920 .
About 85 names have multiple possible identities. For example, there is insufficient evidence to specify which of eight Emma Smiths on the 1920 census paid a poll tax. Other examples are multiple Miss M. Arnold, three Mrs. Binford, several Mrs. Alice Miller, and others. If there are only two or three possibilities, the most likely match is reported, with notes about the reason for selection. If there are more than three possibilities, no identification is made. If additional information is found later, they will be added to the map.
As the extraction progressed, it was not a surprise to see most married women listed with their husband's name, or to find illegible handwriting in the records. There are common surnames and given names. Some use only a single initial with a surname. Many are listed with only initials, either their husband's or their own. Can Mrs. C. Brown be identified? Is she Mrs. Clara Brown or Mrs. Charles Brown? Some women are concealed by the illegible handwriting of either the authors of the list or the Census enumerators. There are multiple opportunities for errors: spelling, omission, reversal of given and surnames, and merging of two names. The extraction of names for this project introduced another opportunity for error. Examples of the images and handwriting follow.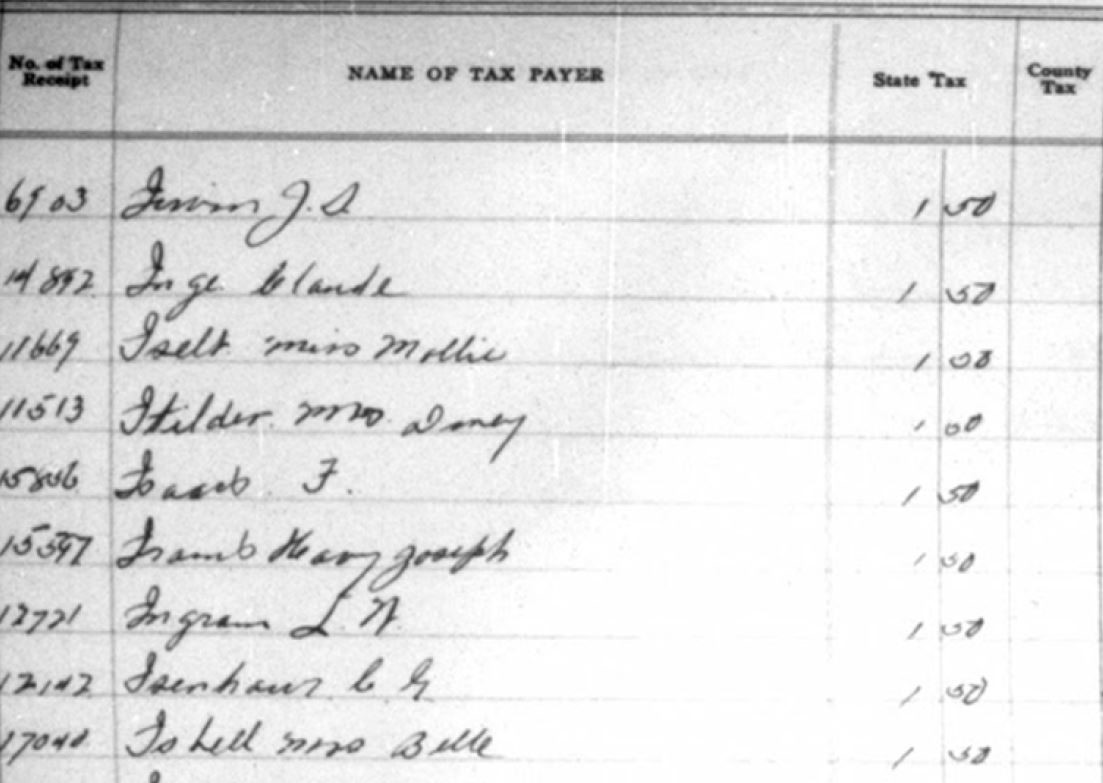 The women who paid the poll tax, and were therefore eligible to vote in November 1920, populate the spreadsheet and the interactive map. Many unlisted women voted because of Judge Harvey's legal opinions, the skill and persistence of Hortense Ward, and the work and support of countless suffragists.



Mapping the Addresses
Identifying the Addresses
Where did the women live? Who were their neighbors?
The locations on the interactive map are primarily based on addresses in the 1920 census, effective date January 1, 1920. The 1920-1921 City Directory of Houston was used as needed. The spreadsheet shows both the address as recorded by the census enumerator in 1920 and the address used to plot the residence on the 2020 map, if different.
There are three categories for mapping status.
Women on the poll tax list who have been completely identified are mapped.

Women on poll tax list who are not identified can't be mapped.

Women with incomplete or incorrect information are not mapped. This might be a missing house number, wrong street name or conflicting enumeration district and ward number. They will be added to the map when correctly identified.
Many 1920 addresses do not correspond to the streets of present day Houston and Harris County. Independent municipalities like Harrisburg, Independence Heights, and Magnolia Park, as well as many unincorporated areas are within the Houston city limits now.
Streets have disappeared, sacrificed to the freeways and structures of today. Homes are gone, replaced by parks, freeways, businesses, churches, universities, hospitals, and new houses. Streets have been renamed. Among so many changes, Houston bayous and early cemeteries serve as landmarks for the 1920 locations.
Several maps are used to find a specific 1920 address on a 2020 map. The most useful maps are a Houston 1917 map with the 1920 wards outlined, and the same map with the 1920 Harris County Enumeration Districts shown. Google Maps shows the present locations.


Street Names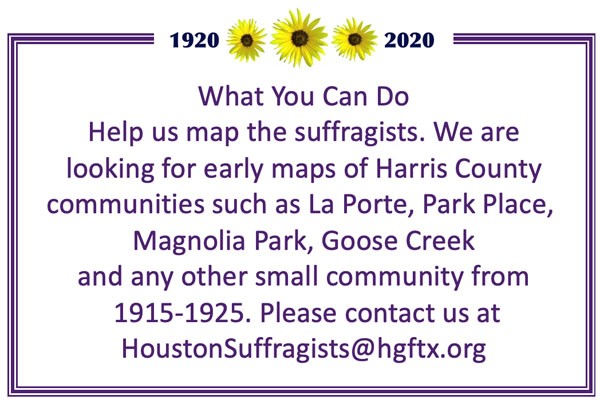 Many street name changes are not obvious until an address is plotted on a current map and compared to the 1920 Ward and Enumeration District maps. Street names that are recognizable today were attached to streets in quite different locations in 1920. The map key often lists multiple same named streets, in different wards and enumeration districts. There are four Cleveland Streets, four versions of Main Street, five versions of Park, Park Avenue and Park Drive, seven Second and two Railroad Streets. McGregor of the past is not North or South MacGregor Way. It is part of Alabama Street. In some cases, multiple streets in a neighborhood changed. When Houston annexed Independence Heights in December 1929, several street names changed. Avenues A through G are now Cornell, Rogers, Carnation, etc. Others are recent and easily recognized. An example is the welcome name change from Dowling Street to Emancipation Boulevard a few days before Juneteenth, 2017.
Several sources for street name changes were used in this project. Applications for designation of historical places supplied maps, street, and community histories that reveal long forgotten street names. Stephen P. Morse's One Step Webpages is a short cut to name changes but limited to changes between 1930-1940.
The layered interactive map is indispensable. Isolating a street to one enumeration district and overlaying the 1920 map on the current map peels back 100 years of change.
There are no recorded house numbers and street names in many of the areas outside the city limits, and some within the city. No house numbers are recorded for farms. In many cases enumerators entered street addresses such as "in the vicinity of Crosby, on Beaumont-Crosby shell road", "south side of oil field", "near Moonshine Hill" and "Kohrville and Neidorff Road". It will take more time and better maps to identify the current location of those homes. Can we map the residence of Miss Cora Cramer who lived "on the west side of a dirt road leading from the Humble shell road to Aldine"? She paid her poll tax and prepared to vote, but she is not on the map.



14th Census of the United States, 1920
Jurisdiction and Geographic Information
Although genealogists are familiar with census pages, some readers are not. The Federal Census, required every ten years, is the official count of all persons living in the United States. The effective date of the 1920 census was January 1.
Census takers, or enumerators, were responsible for taking an accurate count and record of every person in an assigned area. As an enumerator traveled her route in the district, she recorded jurisdiction and geographic information across the top of the page. Information generally moves from larger to smaller jurisdictions.
State and County - Texas and Harris County.

Township or Other Division of County - The eight Justice Precincts. Justice Precinct 1, which includes the city of Houston has the largest population.

Name of Incorporated place - Houston, Harrisburg, Independence Heights, LaPorte, or others. A blank indicates an unincorporated area. Many of the smaller municipalities have been annexed by Houston. For instance, the census records homes in Bellaire and Houston Heights as Houston addresses. Bellaire incorporated as a general rule city in June 1918 but did not obtain a city charter until 1949 when the population exceeded 5000. The city of Houston annexed the Houston Heights in 1918.

Ward of City - Houston's six Wards, as political units, were discontinued in 1904. Ward delineation was used on maps through the 1920s. For purposes of the 1920 census, Wards 1 through 7 were used. The 7th Ward appears to refer to Houston Heights.

Enumeration District (ED) - Generally small tracts that can be covered by a single enumerator in a reasonable period. The size of the 95 Harris County enumeration districts varies. An ED can be a single institution, such as a hospital or jail. A few are large. In some cases, a single enumerator was responsible for more than one ED.

Sheet number - Sheet, or page, numbers are handwritten in the top right corner of a page. The handwritten number precedes a printed A or B. It is common to see these numbers crossed out and changed.

Voting precinct - Mentioned randomly by some enumerators but is not a census item. Voting precincts differ from justice precincts. This project has collected voting precinct information for future use.


Demographic Information
Information from 12 of 29 columns on a page was captured for this project.
Reported are:
Street name and house number - Many street names have changed since 1920. Both the address on the census and the current location of that address are reported on the list and the map.

Name of woman and husband, and relationship of the woman to the head of household - The woman of interest is most often a wife. In some cases, she is the head of household, or a family member such as daughter, sister, aunt, mother in law, etc. Lodgers, roomers, and boarders suggest a non familial, financial relationship, but they might also be relatives. Occasionally the relationship is servant, or governess, living with the employer's family.

Home ownership (mortgaged or free of mortgage) vs. rental

Personal descriptors of sex, race , age, and marital status of women .

Occupation, including trade, kind of work or profession and type of industry or business or establishment for women and their husbands.
The following columns were not captured for this project:
Citizenship and educational achievement

Place of birth and mother tongue (first language) of the person and both parents

Ability to speak English

Descriptors of employer, salaried or hourly employee, or working on his own account.